So... if you are a reader of this blog, you know I have a natural aversion to company inside my home. I may have even told you that I would refuse to answer the door to unannounced guests.
I've been working on that...
No
, I haven't sought out counseling or medication to help me deal with the anxiety of non-inner circle guests, but I have figured out a way to make it less stressful for all of us! Porch sittin'.
Yes.
Don't act like you don't think that's a great idea. I am pretty proud of myself. You know for coming up with an idea that is so cutting edge...
Yeah, right
.
I've decided that porch sittin' originated in the deep south... where women would become anxious over the possibility of an unannounced guest, so they made their porches extra inviting!
Extra inviting
... that'd take some work to make mine feel that way!
Here is what I'm working with:
Now, isn't that a dismal sight? A dirty porch with a swing and a rocker. Not so inviting, huh? I had a plan, no worries.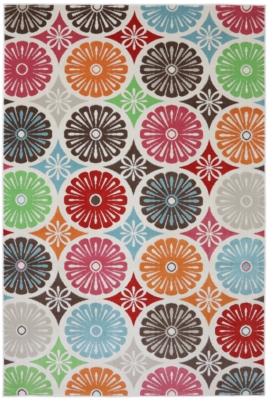 Isn't that just purty?? I think so, too!
So, since it is an indoor/outdoor rug, it'd be perfect for my porch!

American Rug Craftsmen's

outdoor rugs are made from polypropylene that resists staining, fading, and mold/mildew.

Perfect, eh? I've been waiting for the weather to warm up to get started on the Great Porch Remodel!
I don't want to bore you with the details... I'll just show you what happened:
Amazing, huh?!
First, I needed wall decor! So, I used some lumber that was cut off the farm and painted it up! The quote on it says: "I had rather be on this Farm than be emperor of the world." Fitting for my hubs! :)
Then, I brought my patio furniture from inside (I used it while the girls were little so I could spray it off, but recently replaced them with leather recliners)--I covered the cushions with a King sized sheet, cut in half!
I reused the rocker, took down the porch swing (moved it to the back of the house) and found some flowers on clearance that had been frost bitten!
I found an old pie safe at mom's house! (Free)
I made some pillows out of some fabric I had in my stash! I think those little chicks are perfect!
Then--the rug! Isn't it a beaut?? Doesn't it just look great? You can find this sweet gal on
Wayfair
(or at JCP, Home Depot, or Lowe's) for around $130! This one is 5'3"x7'10" and fits perfectly on my front porch!
To complete my "room" remodel, I added some fun swings for the girls! They are made from a twin sheet, a small piece of pipe, and some rope!
Cute, aren't they?
So, how is the porch for chatting? Looks perfect:
And one more of my new room!
I'm in love with my new porch! I'm thankful Mohawk Home offered this girl to me from their American Craftsmen line! It's bound to improve my social life!
I will not extend an invite to the world...but, I will say if you show up unannounced, expect to enjoy sitting here! As far as the potty... you had better go before you come!
Want to check out all that Mohawk Home has to offer and improve your social life? They have graciously offered one of my readers a rug! You can choose any Mohawk Home rug up to 5x8 that is under $100! I tell you... the possibilities are endless!! Enter the giveaway below:
a Rafflecopter giveaway